Shore Modular and Factory Techniques to Keep Costs Low
Friday, 24 February 2014 05:04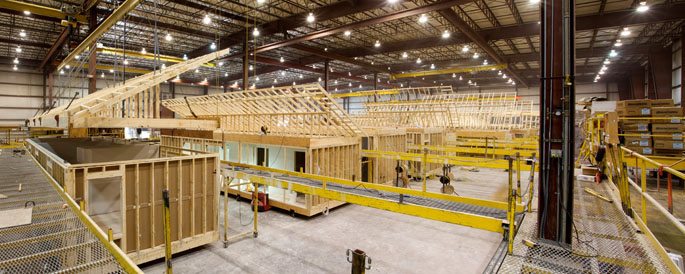 Ever since the housing boom Shore Modular homes have been on the rise in popularity for a while now and there are quite a number of reasons why that is. However, one of the most defining reasons is simply value the Shore Modular home provides for your hard earned money!
There are many advantages to having a Shore Modular home built in a factory setting and today we will cover just a few of the most important ones. The effectiveness and efficiency is directly related to far lower cost for a variety of factors:
Buying Building Supply in Bulk. Like anything else bought in bulk, the more of it you buy the lower the price. That means your factory built Shore Modular home pays less for everything from nails, wood, drywall, windows and doors, roofing material, etc. Those savings are passed directly to our clients in a form of a superior product at the best possible value directly before the build has even started.
Time is MONEY! When building on site, it takes time for a crew to set up before the work begins and at the end of the day it takes time to pack up before the home site is left for the day. Doing the same work at the factory in a safe and secured environment takes much less time as everything is at your fingertips from the time workers enter the factory floor thus being able to accomplish more in less time. It does not sound like much, but when you are paying a crew of 5 to unpack and pack back up during the time it takes to build a home it adds up quickly.
Industrial Tools and Equipment. Having the right tools is everything. Being in a factory setting Shore Modular is utilizing the advantage of much bigger commercial building tools and industrial equipment most or the home builders in the Southern New Jersey Area would not be able to bring to the site. This lowers transportation and operating insurance cost, and at the same time helps boost productivity saving you money.
Skilled and Experienced Labor. Having a crew that you can keep busy year around is a problem for most other builders, but when it comes to building homes with Shore Modular it's a different story. Modular factory workers know what they are doing and since the factory builders are in the job for the long haul, you won`t find a mix of talents. It's like comparing a local auto mechanic with Fords factory line in early 1900's. Builders of Shore Modular homes know what they are doing and they hone their skills to perfection by working under constant supervision year around.
On Site Theft. This is one of those things that happens very often with onsite build homes. Due to the lack of security while no one is present on the building site, a lot of materials and tools cannot be safeguarded, thus increasing cost of insurance and replacement of tools and building materials increasing overhead. All of those cost savings are passed to Shore Modular clients offering best values in today's factory built modular homes.
If you are interested in making a factory tour and seeing for yourself how homes are build please call us at 609-848-8004 or send an email to info (at) shoremodular.com to discuss possible factory walkthrough.